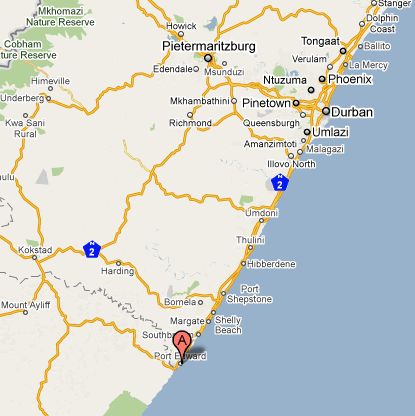 Port Edward is situated in the Hibiscus Coast on the KwaZulu Natal South Coast, and was named after the Prince of Wales who later become King Edward VII. Port Edward is the last village on the KZN South Coast before the Eastern Cape, and today it is a popular holiday destination.
Port Edward and surrounding areas boast some lovely beaches that are protected and safe for bathers, and is also well known for it's popular fishing spots, such as Splash Rock. The rocks and gullies make for some exciting rock & surf fishing, and Port Edward is also a boat launching beach with ski boats and jet skis providing thrills to beach goers with their launches through the sometimes rough surf.
Overlooking Port Edward main beach, also known as Silver Beach, is an interesting spot known as Tragedy Hill, which was where Henry Flynn and his followers were massacred by Zulu warriors in a misunderstanding over stolen cattle way back in 1831.
Of course Port Edward is not just about the beach. There are many activities to keep you busy, including the
SupaChube
located at the beachfront, Hiking in the Umtamvuna Nature Reserve, water sports on the Umtamvuna River, coffe tours & tasting at Beaver Creek coffee farm, restaurants & pubs, shopping, golf at some stunning golf courses including Wild Coast Sun, San Lameer, Southbroom and Margate.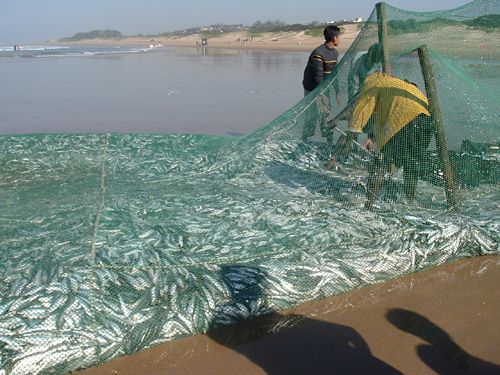 Very importantly , the annual sardine run must certainly not be overlooked. Millions of the little silver sardines head north from the colder waters in the Cape and normally arrive on the KZN South Coast between June and July. The sardines are persued by hundreds of sharks, dolphins, birds and other predator fish, making the sardine run a fascinating spectacle. Port Edward is the first point to come into contact with the sardines and their followers once they hit Natal waters.
In short, Port Edward can be considered a lovely holiday destination, with some stunning self catering, and B&B
accommodation
, and a number of
camping
options. Something for everybody.